A menu according to the season in your restaurant in Arrigny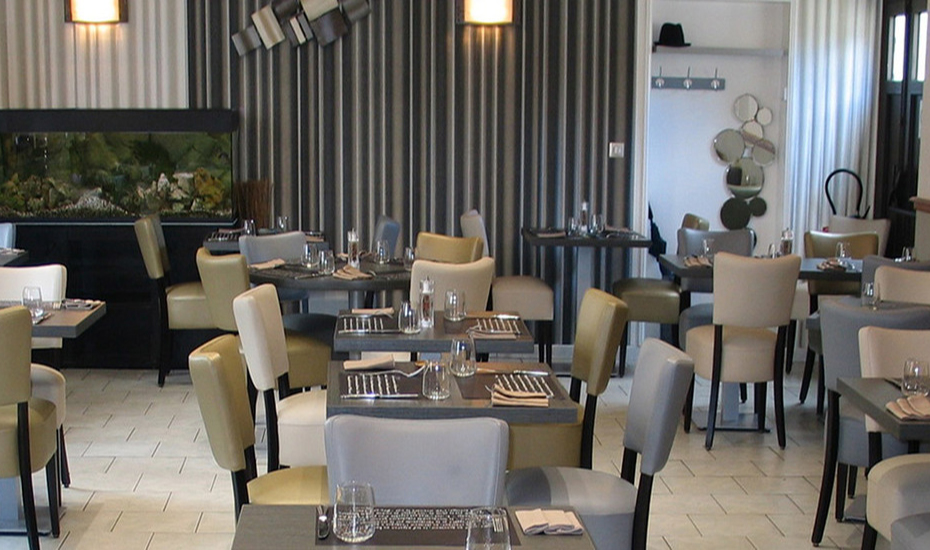 Because the restaurant Au Petit Pari is anxious to offer you a menu that changes with the seasons, find out about our menus, updated every three months.
The daily special is only served at lunch on weekdays. To surprise you every time you come, Au Petit Pari chooses to offer you a different 13.50€ set menu every day.
A choice of 2 or 3 appetizers
The main course and its side dish
The cheese and dessert platter (a choice of 2 or 3)
The daily special is served in the bar room. The other menus are served in the contemporary-styled restaurant hall. You will also have a menu with appetizers, fishes, meats, desserts and ice cream cups, as well as a salad menu.
---
Menu Brasserie
Main dish 16€, appetizer + main dish or main dish + dessert 19€, whole menu 23€
Duck terrine with Ratafia (champagne alcohol)
Gizzards and lardons salad
Goat cheese and dry-cured ham croustade
Onion squash velouté and croutons
****
Salmon and leek lasagna
Estouffade de sanglier (boar stew)
Skirt steak with shallots
Veal's head and steamed potatoes
Confit of rabbit's leg and mashed potatoes
****
Brie (cheese) on green salad
Oeuf à la neige (beaten white egg until stiff with sugar and custard)
Apple liegeois (with whipped cream) and caramel ice cream
Cup with 2 scoops of ice cream
---
Menu tradition at 28 €
Salade landaise (ham, duck breast fillet and gizzard)
Casserole of andouillette and Langres (cheese)
Apple and camembert upside-down pie
Baked egg with shrimp
*****
Lamb shanks and thyme juice
Crumble of duck confit, apple and celery
Ray fillet with beurre blanc and cabbage fricassee
Stuffed chicken ballotine
*****
Regional goat cheese duo (shallots/smoked onion) or a choice of cheeses or desserts at the bottom of the page
---
Menu Gourmet at 38€
Sweetbread and mushroom vol au vent
Casserole of snails and mushrooms with garlic cream
Timbale of scallop and crayfish
Foie gras terrine and fig chutney
*****
Sea sauerkraut (zander, salmon and king shrimps)
Whole fried veal kidney
Zander fillet with Champagne lentils
Charolais beef fillet and morel sauce
*****
Cheese
*****
Choice of dessert at the bottom of the page
---
Salad menu
---
The desserts for our set menus
Au Petit Pari offers a great choice of desserts for everyone!
Chocolate fondue and its fresh fruits

Mousseux de Champagne en rose et blanc (pink and white champagne mousse)

Apple liegeois (with whipped cream) and caramel ice cream

Oeuf à la neige et crème anglaise (beaten white egg until stiff with sugar and custard)

White chocolate and raspberry risotto

Carambar (caramel candy) tiramisu

Speculoos (cinnamon biscuit) and pear crumble

Iced nougat and its red berries coulis

And ice cream cups